Hyscent Solo Fragrance Dispenser
August 31, 2020

Aspire Stainless Steel Cleaner Aerosol
September 1, 2020
Hyscent Replacement Cartridges
HYSCENT Vs the Competition.
Hyscent is better then metered aerosols because the metered sprays contain up to 96% acetone.  Metered sprays can damage anything that they come in contact with. Can hurt the lungs.
Rubbermaid T-cell can spill.  The contents are corrosive. They last only last 22 days.  Also hurt the lungs.
Description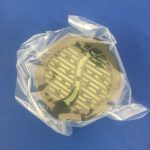 Hyscent's unique hand crafted fragrances are from a blend of natural fragrance and essential Oils, creating a wonderful aromatic experience.  Hyscent fragrances conform to the strictest indoor air quality standards and will positively enhance any environment.
Designed for a long lasting use. Hyscent fragrances are the perfect solution for enhancing work and retail environments with a welcoming scent.  Made in USA.  Last up to 60+ days.
Available in three fragrances
Pacific Waves—most popular
Pomegranate
Coastal Wind