Seat Covers
October 7, 2020

Flex Knife
October 14, 2020
Flitz Metal Polish
Description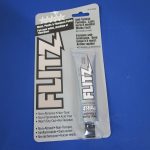 The Best Metal Polish that we have seen.  1.7 oz tube.  Polishes all metals fast and easy.  Great on fiberglass and plastic too.  Leaves a shine that last up to 6 months. Try that Brite Boy!  Safe for use on Rifle Gun Bluing.
Non Abrasive.Non Toxic.Non Flammable.Acid Free.Won't Dry out.No Residue.
Badly tarnished metal might require Flitz Tarnish remover prior to application.