Comet Disinfectant Cleaner with Bleach
December 22, 2015

Murphy Oil Soap
December 22, 2015
Lime Out (hard water deposit remover) Gallon 4×1 case
Lime Out – Bowl, Tile, Metal Cleaner Gallon/case
4 gal per case
Ingredients:Water (Carrier, CAS# 7732-18-5); Phosphoric Acid (Cleaning Acid, CAS# 7664-38-2); Dodecylbenzenesulfonic Acid (Cleaning Agent, CAS# 27176-87-0); Bubblegum Fragrance (Fragrance, CAS# N/A.); Basic Violet 010 (Colorant, CAS# 81-88-9).
Description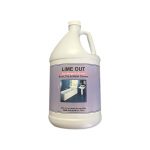 Scientifically formulated, Lime Out dissolves soap scum, mildew, and hard water deposits. Used for shower stall, bathroom fixtures, and bathtubs.
Safety Data Sheet: